My End of Season Awards


One of my favorite parts of the NBA season are the end of the regular season awards. Here are my top three choices for each.
Rookie of the Year:
3rd place- Mason Plumlee
This one may warrant some controversy but if you consider how well he stepped up to the task of filling in for KG you have to admit 'Mase' deserves some recognition. He's grown so much in such a small amount of time and really become a legitimate option at the 5 for the Nets, and been a real reason for their success in the new year.
2nd place- Victor Oladipo
Victor Oladipo was asked at the beginning of the season to make a transition to point guard. Keep in mind that this is widely considered the most difficult position to play in basketball and he was asked to learn it practically overnight. Despite having to learn a new position in a faster more competitive league than he had ever played in, Oladipo has thrived. His season stats of 14 PPG, 4.1 APG, and 4.2 RPG make him a legitimate threat. His FG%s could use some work but considering he's a rookie, playing out of position, and being asked to help carry an awful team, I'd say that earns him some leeway as far as percentages go.
1st place- Michael Carter-Williams
Is this really up for argument? He's got "Next Oscar Robertson" written all over him. I know I'm gonna get a lot of crap for that last statement but you can't deny the kid's potential to be great. For goodness sakes, in his first NBA game he flirted with a quadruple double, 22 points, 12 assists, 7 rebounds, and 9 steals. His size gives him a huge advantage on both ends. He has great court vision, lightening speed, strong defense, an improving jump shot, and 'O yea' he's about four inches taller than most of the other point guards in the league. MCW has all the tools to become a star in this league and I don't think it's any question that he deserves the ROY award.







Most Improved Player:
3rd place- Gerald Green
To say Gerald Green is a 'good athlete' is like saying Usain Bolt is 'pretty quick.' This journeyman could throw down some nasty dunks but that was about all. After a stint in Europe and some work on his jumper, Green got a real shot at success with the Phoenix Suns. Not only did he take advantage of the opportunity, he thrived in this new atmosphere. After his first 7 years he only averaged 8.0 PPG; this year he is averaging a career best 16 PPG. A lights-out shooter, a lock-down defender, and a human highlight reel, Gerald Green has truly taken his game to the next level.
2nd place- Goran Dragic
In his first stint with the Suns, Goran Dragic used to make me wonder what anyone ever saw in him. I'll admit I was the first to write this guy off, but I'm so happy to have been wrong about him, because he is so much fun to watch. This guy got a taste of success and never looked back, he's gotten better every year and even found himself in the MVP conversation this year. Take a look at these stats according to Bleacher Report:
| | | | | | | | |
| --- | --- | --- | --- | --- | --- | --- | --- |
| Year | MPG | FG% | 3P% | PPG | RPG | APG | SPG |
| 2012-13 | 33.5 | 44.3% | 31.9% | 14.7 | 3.1 | 7.4 | 1.6 |
| 2013-14 | 34.9 | 50.8% | 41.7% | 20.5 | 3.2 | 5.9 | 1.3 |
He's become an overnight star and a true leader on his team. Goran 'The Dragon' Dragic has stepped up in a huge way for his team.
1st place- Lance Stephenson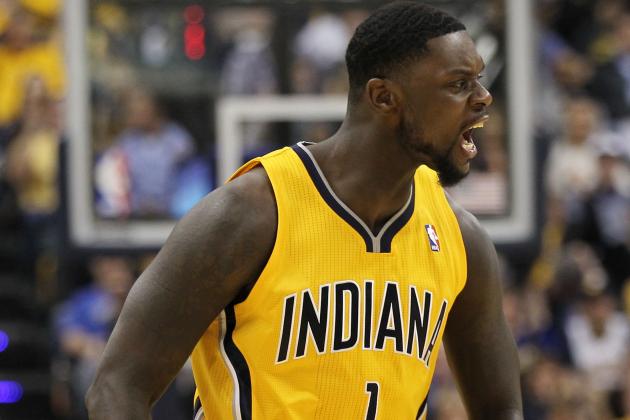 This was a hard choice to make for first but it's hard to argue his results. In his first two years, Lance was pretty much a garbage time player, but when Granger went down last year he got his shot. His success went somewhat unnoticed due to Paul George's emergence as a star, but this year I believe Lance will receive his recognition. He leads the league in triple-doubles (5), and is easily one of the most well-rounded players in the league. He's averaging 13.8 PPG, 4.5 APG, and 7.1 RPG, and he's doing all this AS AN OFF-GUARD! He's a shooting guard averaging more assists than the team's point guard and at only 6'5" he's leading his team in rebounds. If you web search 'overnight success' Lance Stephenson's profile is the first thing to show up.
Defensive Player of the Year:
3rd place- Serge Ibaks
This guy blocks shots like it's going out of style, not to mention he's keeping players at 44.2% around the rim. His athleticism and quickness make him a nightmare for opposing teams and his sense of timing is unparalleled. Ibaka is truly the cornerstone of Oklahoma City's defense.
2nd place- Joakim Noah
Noah isn't so much known for his ability to block shots as much as for his ability to throw off the opposing team's offense. The guy can cover the court like no other and guard virtually any position. His lateral quickness and overall speed are ridiculous for a guy his size; match those with his Kevin Garnett-like intensity and you get the league's second best defense.
1st place- Roy Hibbert
The Pacers not only own the league's best defense this year, but one of the best in history. Check the numbers if you don't believe me. They're allowing 95.5 points per 100 possessions and a lot of this is due to the man in the middle. His ability to protect the paint and block shots is forcing teams to take low percentage jump shots. His man-to-man defense has improved as he dedicated himself to building muscle in the off season, and his team defense is the best in the league. This guy has been known as a defensive beast for the last few season, and I believe he'll be rewarded this year for it.
Sixth Man of the Year:
3rd place-Markieff Morris
This guy not only is a contender for the Sixth Man award but also for the Most Improved. He's been extremely consistent all year, he's averaging just under 14 PPG and is shooting at an impressive 48% this season. His 3-point % could use a boost but it's respectable for a guy his size at 32%. The really impressive stat about this guy is his 18.35 PER, making him the most efficient guys off the bench, for any team, which is kinda the point of this award isn't it?
2nd place- Jamal Crawford
Jamal Crawford has been one of the best scorers off the bench for years now. Hence why he won the award a few years back, and as tired as we probably all are of hearing how great of a sixth man he is it's the truth. He pretty much can fill whatever role you need him for, he can play the point, the off-guard, occasionally small forward, and with Doc Rivers' make-shift, small ball line line-ups he's probably played some power forward at some point. He can dish and shoot with the best of them, pointing out time and time again that the 3-point line is really more of a suggestion, and his ball-handling skills are some of the best all-time. O yea and don't forget he's the all-time leader in 4-point plays and is, frankly, clutch as hell.
https://www.youtube.com/watch?v=pE3CJwQONws
1st place- Taj Gibson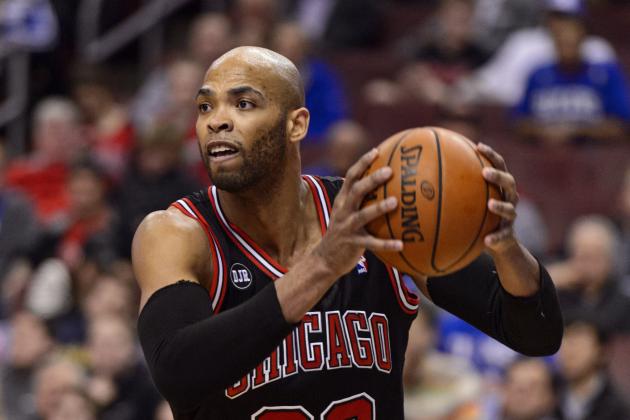 I know, I just made all that fuss over how great Jamal Crawford is only to make him the runner up, but give Taj Gibson some credit. This guy SHOULD be a starter but has accepted a role off the bench so as to appease the ego of Carlos Boozer. He's averaging a career best 13.2 PPG as well as a strong 6.8 RPG, which is virtually the same numbers being put up by his counterpart Boozer. The difference is Gibson shoots the ball at a higher percentage and defends at an elite level. He can play multiple positions, PF and C, and has a 16.52 PER. His dominance on both ends of the floor is what gives him the right to win this award, and I believe the best is yet to come when it comes to this guy.
Most Valuable Player:
3rd place- Chris Paul
Chris Paul has quietly put together a fantastic season, and although he's been injured for quite a bit of it, I believe he still deserves recognition. I'm not a huge Blake Griffin fan (see virtually any of my other articles) but I won't deny Blake's talent. What I will point out though is that his success would be significantly lessened were it not for Chris Paul. The same goes out for Deandre Jordan and pretty much any other member of the Clippers. Paul makes other players better, plain and simple. Most players only contribute to their teams in one way, (see Carmelo Anthony) but Paul makes it happen on all aspects of the game. He scores, defends, and dishes as well as anyone in the league. He has the ability to take over a game, but the beauty of CP3 is that he doesn't have to.
2nd place- Lebron James
There's not much to say about this guy, he's already one of the greatest players ever, sorry I just cringed a little saying that (#diehardBostonfan), but it's true. Lebron is heading towards a run at a third title and if they lose it will be by no fault of his. He is truly an amazing player and the true definition of efficient. Despite this praise, however I do not believe he will win this year.
1st place- Kevin Durant
Durant is leading the league in scoring at a career best 32.0 PPG. This, however is not the reason he deserves this award, or at least not the only reason. The reason he deserves the MVP is due to his ability to lead his team to victory. Last year when Russel Westbrook went down KD seemed uncomfortable in his new role as primary ball handler, this year he relished at the opportunity. He's averaging a career best 5.5 APG. 'Durantula' has truly taken a larger leadership role and the results are great. He can play and defend multiple positions, rebound the ball, and shoot the lights out of any stadium, and to top it off, he's arguably the clutches player in the league. Lebron has remained a consistent force, but Durant's evolution into an even more elite player gives him the edge this year.